KETTYBOT PUDU Intelligent Ad Display, Delivery& Reception Robot
Marketing Expert on Wheels. A New Way to Impress Your Customers
Centered ad display perfectly adapts to the customer's angle of view. The ad display can display promotional materials in the customized zone, providing a more eye-catching approach for marketing.
With AI voice interaction, KettyBot intelligently greets and interacts with passing through customers by waking up its screen. Such a cute and smart KettyBot would obviously draw more attention than the traditional approach!
Two Forms for Greater Versatility
The removable rear cover of KettyBot csn instant switch between removable trays and rear cover that makes it more compact. With autonomous path planning, the robot can lead customers to their tables in the best possible path, providing improved customer experience and reduced waiter workload.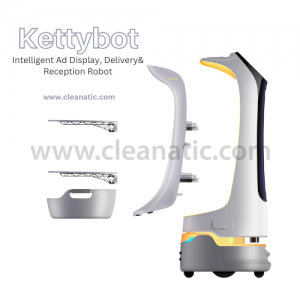 Multi-table Delivery
Multiple tables can be served in one run with accurate positioning and optimal path planning. Achieve more with less!
Cruise Mode
KettyBot can cruise in specific areas to provide customers with free snacks and drinks, accompanied by broadcasts about services and promotions.
Automatic Navigation Planning
Laser & visual dual navigation solution helps to detect obstacles more accurately, making the robot safer.
Multi-robot Cooperation for Higher Efficiency
Powered by PUDU Scheduler system, the KettyBot can directly communicate with any robot in the same network.
Impressive Auto-charging Function for All-day-long Service
KettyBot automatically provides a voice alert and UI notification when the battery is low, and returns to the docking station simultaneously.
| | | |
| --- | --- | --- |
| Model | : | KettyBot (PD-10070-000032) |
| Cruise speed | : | |
| Clearance | : | |
| Carrying capacity | : | |
| Ad display dimension | : | |
| Machine dimension | : | |
| Machine weight | : | |
| Accessories | : | Charging pile: PD-10120-000004 |
Contact Us
Download Brochure