"SHIELD MAT" SANITIZING MAT
"SHIELD MAT" SANITIZING MAT is designed to stop dirt and disinfacting germs from the shoes at the door before entering the building, that helping keep floors clean throughout your facility.
One set includes of saitizing solution tray, vinyl-looped mat, and nylon mat.
Vinyl-looped mat construct of web that help to trap, remove the dirt and increase the effectiveness of disinfactant solution, which help to reduce the spread of the germs.
Resistant to chemicals (Acid-base) and sunlight
Build image for building and business
Anti-slip sanitizing solution tray helps to keep avoiding solution spread. Easy to fill and change sanitizing solution.
Nylon mat with anti-slip backing rubber hekp to absorb water and dirt keeping floors clean throughout your facility.
Easy to clean and move. Indoor and outdoor applications.
applicable for office building, department store, conference hall, factory and warehouse, hospital and medical hubs, stores, airport, restaurant and cafe, hospitality and other business areas.
Recommend to use with ECOLAB 22-multiquat sanitizer (1 gallon equals 2L: up to 166 trays)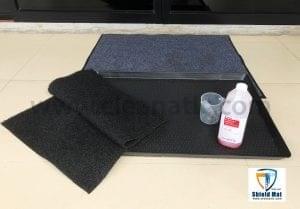 1 set including of
:

Tray with vinyl mat ×1
Nylon mat ×1
Contact Us
Download Brochure