RTU CLEANER SANITIZER SPRAY 500ML – ECOLAB
ECOLAB RTU- CLEANER SANITIZER SPRAY 500ML
Conveniently and safely clean any surfaces without rinsing required with this surface cleaner sanitizer spray from ECOLAB. It is easy to use by just applying on the desired surfaces to clean and eliminate the germs in single step. The product is suitable for using in elevators, door's handles, dining tables, any areas in residential buildings and offices, or the food contact surfaces. This surface cleaner sanitizer spray allows you to clean various surfaces at any places and anytime.
Properties
-Eliminates viruses within 15 seconds and other germs within 1 minute*
-Safe to apply on the food contact surface without rinsing with water
-Kills germs and cleans the surface in single step
-Equipped with a spray nozzle for convenient uses
*(Approved by EPA No. 1677-259 from USA)
Product Usage
Spray thoroughly onto surfaces to eliminate germs and clean. Leave the surface wet for 5 minutes.
Wipe with a damp cloth (The spraying distance is 30 cm between surface and nozzle, spraying period is 10 seconds).
Product Tips
Please follow all instructions and warnings.
People who are sensitive to chemical should wear rubber gloves when using the product.
Cautions
-Do not ingest.
-Avoid contact with eyes. If product contact with eyes, immediately rinse with plenty of -clean water.
-Keep away from children, pets, and direct sunlight.
-Do not dispose of the container into rivers, canals, or any water resources.
-Keep away from flame and high heat areas.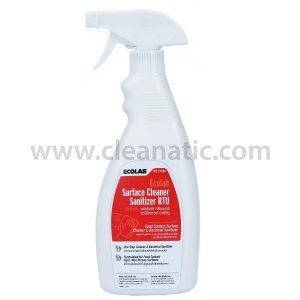 | | | |
| --- | --- | --- |
| Net quantity : | : | 500 ml. |
| Size : | : | 8x21x3 cm. |
| Weight (kg): | : | 500 g. |
Contact Us