PUDUBOT PUDU Intelligent Delivery Robot
SEEING IS BELIEVING
PuduBot's simple and effective industrial design earned it German Red Dot Award for best design, and spearheaded a new trend of indoor delivery robot designs to serve local consumers in restaurants, hotels, office spaces, etc.
Multifunctional Delivery mode and PuduBot delivers food to multiple tables at once.
PUDU SLAM is a new technology, which can ensure that the robot performs tasks more efficiently in a mixed environment.
3D Obstacles avoidance technology can quickly stereo model the surrounding environment, which can greatly reduce the probability of  touching suspended objects or other blind spot obstacles.
Safety and function design
ADJUSTABLE TRAY

INTERACTIVE LIGHT STRIP: Clearer operating instructions

NEW SUSPENSION: Easily dealing with various bumps on the road. More stable operation can be capable of crossing 1cm obstacles. Deliver dishes with no-spill out.

PUDU CLOUD platform provides a powerful cloud intelligent service support for Pudu robots, enabling smart catering, with specific functions.
PUDU SCHEDULER has adopted a decentralized, flexible ad hoc network communication scheme and algorithm architecture. Each robot can directly communicate with any robot in the same network, and quickly calculate and make decisions. Such design reduces the requirements for the network, reduces a central computing node that requires high computing power, and is closer to the interaction mechanism among people.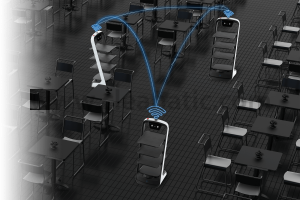 | | | |
| --- | --- | --- |
| Model | : | PuduBot (PD-10010-000069) |
| Load capacity | : | |
| Cruise speed | : | |
| Machine material | : | ABS/Aviation-grade aluminum alloy |
| | : | |
| | : | |
| Charging time | : | |
| Battery life | : | |
Contact Us
Download Brochure