CREAMIC 250g.- ECOLAB
CREAMIC MULTI-PURPOSE CREAM CLEANSER ECOLAB 250G
CREAMIC multi-purpose cream cleanser – ECOLAB. It is intended for removing dirty stains, grease, or oil stains on floors, walls, kitchen utensils. The cream cleanser can also be used to get rid of soap scum build-ups, limescale stains, or any water stains in bathrooms or office buildings. This cleanser offers multipurpose cleaning uses and eliminates stains effectively.
Properties
-Intended for removing soap scum build-ups, grease, and stubborn stains on general surfaces
-Returns sparking to surfaces
-Safely cleans the surfaces without causing any damages
-Can be used for eliminating stubborn dregs on toilets
-Compatible with general surfaces such as toilets, plastic, ceramics, formica, vinyl, aluminum, stainless steel, and other surfaces
Product Usage
Apply the cream on a sponge, a damp cloth, or a brush.
After that, rub or wipe on the desired areas. Then wipe clean or rinse with clean water.
Product Tips
Please follow all instructions and warnings.
Wash hands with water and soap after using. Use of protective gloves is recommended for those whose skin is sensitive to chemical.
Cautions
-Do not ingest. Avoid contact with eyes. If product contact with eyes, immediately rinse with plenty of clean water.
-Keep away from children, pets, and direct sunlight.
-Do not dispose of the container into rivers, canals, or any water resources.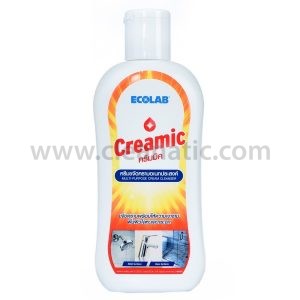 | | | |
| --- | --- | --- |
| Size : | : | 6.7×16.2×3.3 cm. |
| Net quantity: | : | 250 g. |
| Weight : | : | 240 g. |
Contact Us
Download Brochure