Nano Atomizer Wireless Sprayer
Nano Atomizer sprayer allows the user hours of spraying time without the hassle of dragging a cord that will save time and labor, and with only 550g makes it easy to handle anyway and clean even in each working point such as picking-up goods area.
More efficient: Spray less liquid, and cover more surfaces, and sprayer nozzle can adjust the level of particle size into a micron, covered cleaning and disinfection area with 800ml tank with blue light and anti-blocking design.
The sprayer comes with USB charger.
Recommend using with ECOLAB 22-Multiquat Sanitizer which does not destroy the surface and not flamable.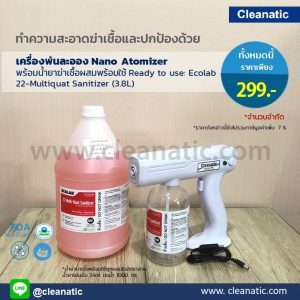 | | | |
| --- | --- | --- |
| Model | : | |
| Solution tank | : | |
| Weight | : | |
| Using time | : | |
| Charging time | : | |
| Battery | : | |
Contact Us